FIRST AID Course in AGT Institute
---
FIRST AID Course in AGT Institute
AGT Institute proudly presents its comprehensive First Aid Course, designed to equip individuals with life-saving skills and knowledge. With experienced instructors and practical training, this course ensures you become a competent and confident first aider.
Course Detail / Introduction
The First Aid Course at AGT Institute offers in-depth training in emergency response and medical assistance. Participants will learn essential techniques, including assessing incidents, managing unresponsive casualties, CPR, controlling bleeding, handling shock, and providing aid for minor injuries. The course covers a wide range of first aid scenarios, empowering you to handle emergencies effectively.
By enrolling in the First Aid Course, you unlock numerous benefits:
1. Acquire vital life-saving skills
2. Boost your confidence in emergency situations
3. Become an invaluable asset to your community or workplace
4. Enhance your employability in various industries
5. Gain the ability to save lives and provide immediate medical assistance
6. Develop critical thinking and decision-making abilities in high-pressure situations
FIRST AID Course Outline
The First Aid Course covers the following topics:
- Role and responsibilities of a first aider
- Minimizing the risk of infection to self and others
- Establishing consent to provide first aid
- Accident report form completion
- First aid equipment requirements in the workplace
- Safe use of first aid equipment
- Assessing incidents: scene survey and primary survey of a casualty
- Managing unresponsive casualties, including those who are breathing normally or not breathing normally
- Handling seizures and unconscious casualties
- Cardio Pulmonary Resuscitation (CPR)
- Assisting a choking casualty
- Controlling external bleeding
- Managing casualties in shock
- Administering first aid for minor injuries
First Aid Course Outcome
Upon completion of the First Aid Course, participants will:
- Possess the necessary skills to provide immediate medical assistance
- Demonstrate proficiency in assessing and managing various emergency situations
- Be capable of performing CPR and assisting choking victims
- Understand how to control bleeding and handle casualties in shock
- Acquire a recognized certification as proof of their competence in first aid
Related Courses with First Aid Course
AGT Institute offers related courses that complement the First Aid Course, including:
- Basic Life Support (BLS)
- Advanced Cardiac Life Support (ACLS)
- Emergency Medical Technician (EMT)
- Pediatric First Aid
Salary after Doing First Aid Course with Other Relevant Courses
Completing the First Aid Course, along with other relevant certifications IOSH Managing Safely, OSHA , can significantly enhance your earning potential. Depending on your qualifications, experience, and job position, you can expect competitive salaries in the healthcare, safety, and emergency response sectors.
FIRST AID Course Certificate
Upon successful completion of the First Aid Course, participants will receive a recognized certificate, validating their proficiency in first aid techniques. This certificate serves as a testament to your skills and can be included in your professional portfolio.
FIRST AID Job Opportunities in Pakistan, Gulf, and Europe
After completing the First Aid Course, a plethora of job opportunities await you in various regions:
- Pakistan: Join hospitals, clinics, emergency response teams, NGOs, and corporate organizations as a first aid responder or safety officer. visit here to view jobs
- Gulf: Explore opportunities in healthcare facilities, oil and gas industry, construction, hospitality, and government organizations, where first aid skills are highly valued.
- Europe: Engage in roles within healthcare systems, emergency services, educational institutions, and public or private sector organizations focused on safety and well-being.
Conclusion
Enroll in the First Aid Course at AGT Institute and become a confident and capable first aider. Gain life-saving skills, enhance your career prospects, and make a difference in emergency situations. Equip yourself with the knowledge toprovide immediate medical assistance and save lives. Our expert instructors and practical training methodology ensure that you are well-prepared to handle various emergency scenarios.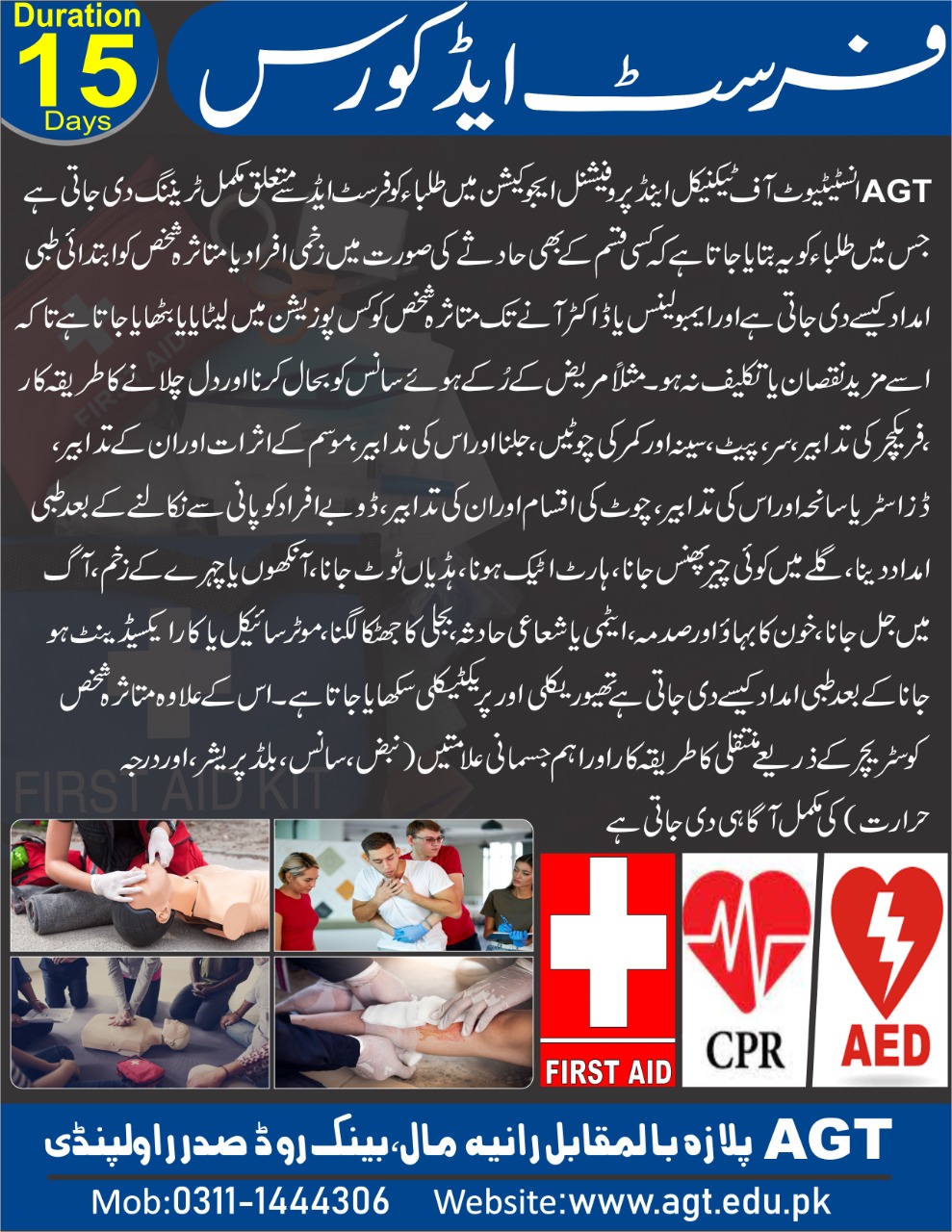 AGT Tech has well defined course modules and training sessions for students as per international standards. Students will be awarded six months AGT Tech training certificate after completion of two months (2 months) training course. If you want to have Cisco Certificate then you will have to appear for their exam as per their fee and exam schedules. The course timings, starting dates, intakes and fees structure details are as under:-
Starting Dates
Class Timings
Status
Fee
05 Jun 2023
04:00 to 05:00
Closed
Rs. 6000
03 Jul 2023
04:00 to 05:00
Open

Comments
Leave a Comment: