Mobile Phone Software Professional Course
---
Learning Outcomes

Assessment Criteria

The learner can:

To know about the practically Processes about Mobile phone software Installation, Flashing

3. To know about the complete processes by practically performing all types of the Mobile Phone Unlocking

4. Solution about the all types of Mobile phone Software Problems

5. Recognition about all the Devices for Mobile Phone Software

6. Recognition about all the Types of Mobiles phones

7.Customer Dealing and Lab Management
Mobile Phone Unlocking:Software Problems:Devices for Mobile Phone Software: Types of Mobiles phones:
Range

Installation, Flashing

Step-1

Learn the problem about software

Step-2

Selection of relevant device

Step-3

Check the mobile phone before Connect the mobile phone with device

Step-4

Check the shortage of mobile phone

Step-5

Connect the mobile phone with device

Step-6

Storage of Mobile phone data (Pictures, Video clips, Phones numbers ect.

Step-7

Selection of Flash file of the relevant mobile phone

Step-8

At the end Mobile phone Flashing

Online purchasing Un-locking Code

Mobile phone Dead Problem

Network problem
Mobile restart/Switch Off automatically Problem,

Display Problem
Call cut off problem
Keypad Problem
Sim Lock/Mobile Lock contact Service,

Bluetooth Problem
Wi-fi not working

Contact Retailer
LED Problem
Memory Card Problem

Gallery not opening problem
Camera Problem
FM Radio

Battery Discharge Problem

GC Prokey

Best Box

ATF turbo

Z3X

Nokia

Samsung(Glaxy,Note,Tablet)

Oppo

UMI infinix

Qmobile

HTC

Rivo

Iphone

Sony

Lava

Blackbarry

Lenovo

Samsung Clonefone
موبائل فون سافٹ ویئر انجینئر
مکمل فلیشنگ اور ان لاکنگ نہ سیکھ سکنے کی صورت میں 15دن یا دوبارہ پورا کورس بالکل فری کریں ۔
Course Devices
Online Unlocking with Credit , Setool+Lgtool, Miracle Box, Best Infinity, Sigma Box, GC Prokey , Best Box, ATF Turbo, Z3X
UNLOCKING we Teach
User code unlocking,Security code unlocking,Country code unlocking,G-mail unlocking,FRP Account unlocking, Pattern account unlocking, I.Phone jail break, Rooting for andriod phones, I-Cloud unlocking
SOFTWARE PROBLUMES we teach you how to solve
Mobile phone dead,Insert sim card problum,Hanging Problum,Network problum,Display problum,Mobile restart/Switch off Automatically problum,Call cut off problum Keypaid problem,Sim lock/Mobile lock contact service, contackt retailer, Contact manufacturer, Battery Discharge problum,Gallery not opening problum, Camera Problum, FM Radio, LED Problum Memory card Problum, Blutooth Problum Wifi networking
موبائل فون سافٹ ویئر پروفیشنل کورس (یونٹ 1)
کورسک ے اس ابتدائی حصے میں سٹوڈنٹس کو یہ بتایا جاتا ہے کہ بنیادی طور پر موبائل فون کا سافٹ ویئر کیا ہے اس کی کتنی اقسام ہیں ،یہ کیا کام کرتا ہے اور اس کے حوالے سے کتنی اقسام کے فالٹ آسکتے ہیں ۔ان فالٹ کو ریپئر کرنے کا طریقہ کیا ہے ۔سافٹ ویئر کے حوالے سے کتنی اقسام کی اور کس کس کمپنی کی ڈیوائس استعمال کی جاتی ہے اور ان کی مارکیٹ میں قیمت کیا ہے اور ان ڈیوائسز کے ساتھ کتنی تعداد میں کیبلز اور دوسری اشیاء دی جاتی ہیں جن سے آپ سافٹ ویئر کاکام کرسکتے ہیں ۔
موبائل فون سافٹ ویئر انسٹالیشن ،فلیشنگ (یونٹ 2)
کورس کے اس حصے میں سٹوڈنٹس کو باقاعدہ سافٹ ویئر انسٹالیشن کی تربیت دی جاتی ہے جسم یں سافٹ ویئر پرابلم کو سمجھنا پھر اس حوالے سے موزوں ڈیوائس کا انتخاب کرنا ،موبائل فون کو ڈیوائس کے ساتھ Connect (جوڑنا )کرنے سے پہلے فون کو چیک کرنا ،فون کی شاٹج چیک کرنا اور پھر ڈیوائس کے ساتھ لگانا اس کے بعد سٹوڈنٹس کو سمجھایا جاتا ہے کہ موبائل فون کا بیک اپ کیسے سٹور کرنا ہے تاکہ فون میں موجود ڈیٹا جس میں تصاویر ،ویڈیو کلپ ،فون نمبرز وغیرہ ضائع نہ ہوں ۔اس کے بعد متعلقہ فون کی فلیش فائل سلیکٹ کرنا اور فون کو فلیش کرنا سیکھایا جاتا ہے ۔کورس کے دوران سٹوڈنٹس کو یہ بھی سیکھایا جاتا ہے کہ مختلف سافٹ ویئر form (فورم )سے فائدہ کیسے اٹھانا ہے ۔
موبائل فون ان لاکنگ (یونٹ 3)
ایسے تمام فون جو کوئی بھی کمپنی اپنی سم کے ستھ فروخت کرتی ہے چاہے وہ پاکستان میں ہو یا بیرون ملک مثلاََ انگلینڈ ،امیریکہ ،یورپ وغیرہ کوئی بھی موبائل فون ان ممالک سے پاکستان آتا ہے تو ان پر کمپنی کی طرف سے ایک کوڈلگا ہوا ہوتا ہے جس کی وجہ سے یہ فون پاکستان میں یا دنیا کے کسی حصے میں نہیں چلتا ۔ان فون پر لگے ہر قسم کے کوڈ یا لاک کوکھولنا سٹوڈنٹس کو گارنٹی کے ساتھ سیکھایا جاتا ہے اس کے علاوہ موبائل فون پر لگے ہرقسم کے لاگ جس میں یوزر لاک ،سیکورٹی کوڈ ،پیٹرن لاک ،کنٹری کوڈ ،G-mail لاک ،FRPاکاؤنٹ ان لاک ،آئی فون جیل بریک ،اور ہر طرح کے لاک کھولنا سیکھایا جاتا ہے ۔سٹوڈنٹس کو یہ بھی سیکھایا جاتا ہے کہ آن لائن ان لاکنگ کیسے کی جاتی ہے اور آن لائن ان لاکنگ کوڈ کیسے خریدا جاتا ہے وغیرہ
کسٹمر ڈیلنگ اور لیب منیجمنٹ(یونٹ 4)
اس کورس میں سٹوڈنٹس کو کستمر کے ساتھ خریدو فروخت ،سافٹ ویئر انسٹالیشن ،ان لاکنگ کے ریٹ طے کرنا ،فلیشنگ سے پہلے اگر فون خراب ہونے کے چانس ہیں تو اس سے اس چیز کی منظوری لینا کہ فون خراب ہوگیا تو آپ ذمہ دار نہیں ہونگے ۔تما م موبائل فون کی خریدو فروخت اور ریپئرنگ کا حساب کتاب رکھنا ،ورکشاپ کی سیٹنگ کرنا اور ورکشاپ تیار کرواتے وقت اس کی فٹنگ کروانا،آپ کے بجٹ کے حوالے سے انویسٹمنٹ کرنا شامل ہے ۔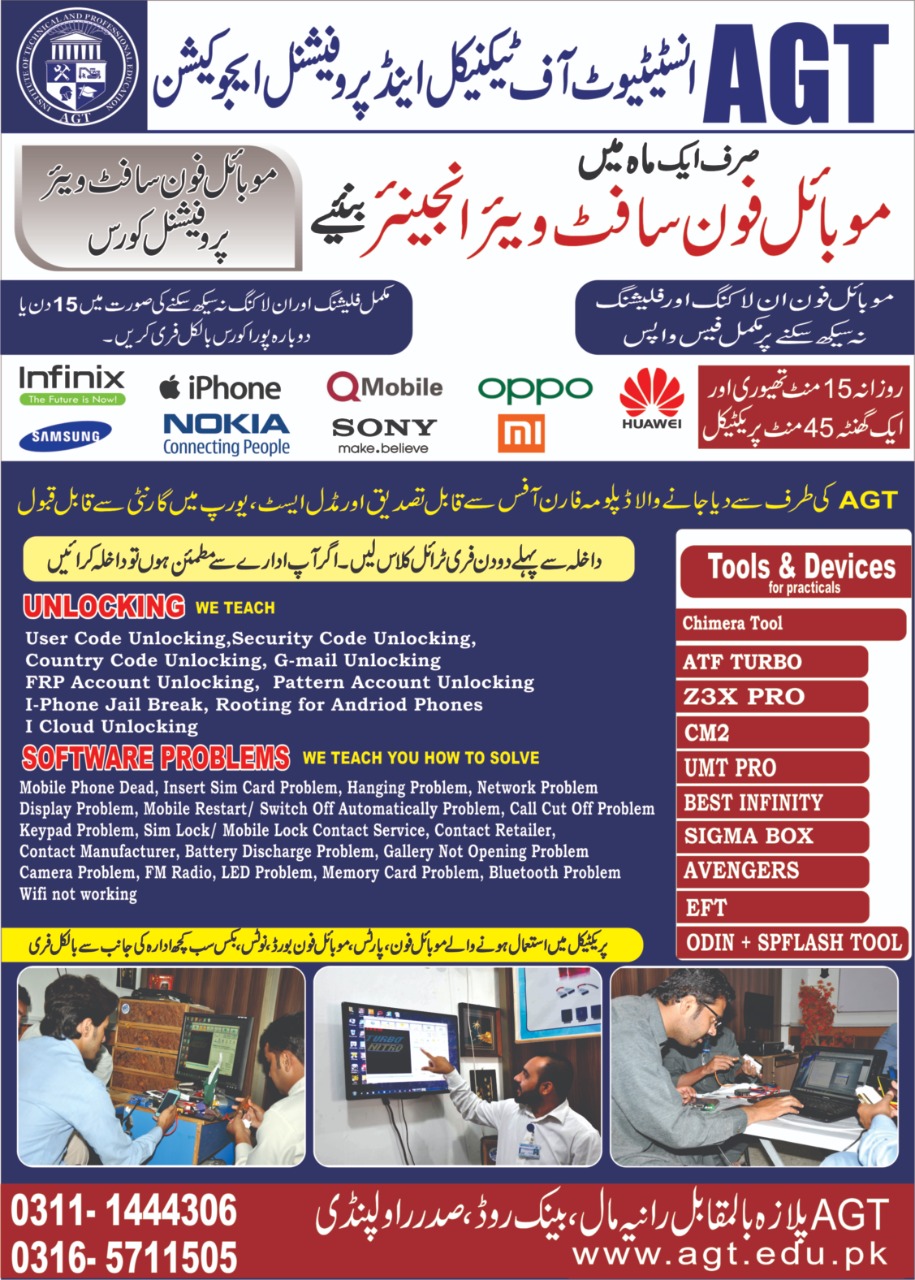 AGT Tech has well defined course modules and training sessions for students as per international standards. Students will be awarded six months AGT Tech training certificate after completion of two months (2 months) training course. If you want to have Cisco Certificate then you will have to appear for their exam as per their fee and exam schedules. The course timings, starting dates, intakes and fees structure details are as under:-
Starting Dates
Class Timings
Status
Fee
17 Oct 2022
09:00 to 11:00
Closed
Rs. 11000
01 Nov 2022
09:00 to 11:00
Open
01 Nov 2022
11:00 to 01:00
Open
01 Nov 2022
03:00 to 05:00
Open

Level: Professional
Duration: 1 Month
Assessment: Theory 20% + Practical 80%
Course aim:
Locking, unlocking phones, managing installation and upgrades, now you can do it all after attending our mobile phone software professional course. You can remove viruses, retrieve back-up after the phone has crashed, manage updates and downgrades and anything else related to mobile software. This certificate course provides the basic information related to mobile software's of all the leading mobile phone brands and models.
Course Outline & Description
The Mobile Phone Software Professional Course has been designed to provide you professional knowledge and skills for repairing, installing and upgrading or downgrading software of all the leading mobile phone manufacturers. You can perform all kinds of mobile phone software management work.
Industrial Placement
Part-time study available
Alternative start dates available
Work placement opportunity
International Students can apply
-->
Comments
Leave a Comment: