Fire Fighting
---
Overview:
The qualification covers the latest fire safety regulations and the roles and duties of employees and their responsibilities on Fire Safety. The qualification is designed to meet and comply with the Regulatory Reform (Fire Safety) Order 2005. It covers how fires are started, methods of controlling fire spread, evacuating the building, fire briefings and risk assessing.
The qualification covers a wide range of subjects such as the hazards and risks associated with fire in the workplace, methods of controlling fires in the workplace, the role of the nominated fire warden, the principles and practice of fire safety management at work etc.
Learning outcomes:
This course will provide the learners with the knowledge of:
How to identify sources of fire in workplace
The ways to control risk of starting fire.
The ways to control the risks of fire spread.
Actions to be taken when a fire is identified.
The ways to extinguish fires.
Types of fires and types of fire extinguishing media
WHO SHOULD ATTEND:
Individuals from various workplaces
Persons from general public
Hotel staff
ASSESSMENT:
This qualification is assessed through a 30-question multiple-choice question examination. The duration of the examination is 1 hour. Successful learners must achieve a score of at least 20 out of 30. This also includes a practical with emergency evacuation procedure.
Certiifcate:
The delegates will get a lifetime certificate issued by relevant International Bodies which is verifiable anytime.
The Firefighting Course has been designed to provide you the knowledge, skills and hands-on experience of fire rescue, response, damage control and disaster assistance. You will get to learn all about the latest equipment being used in firefighting, about the techniques and procedures as well as dealing with the affected.
Learning Areas
Course Duration
Course Supplement

Fire Safety Principles

02 days
Practical Exercises Tips & Techniques Self-Help Guide

Understand the hazards and risks associated with fire in the workplace

Understand how fire risk is controlled in the workplace

Understand the principles and practice of fire safety management at work

Understand the role of the nominated fire warden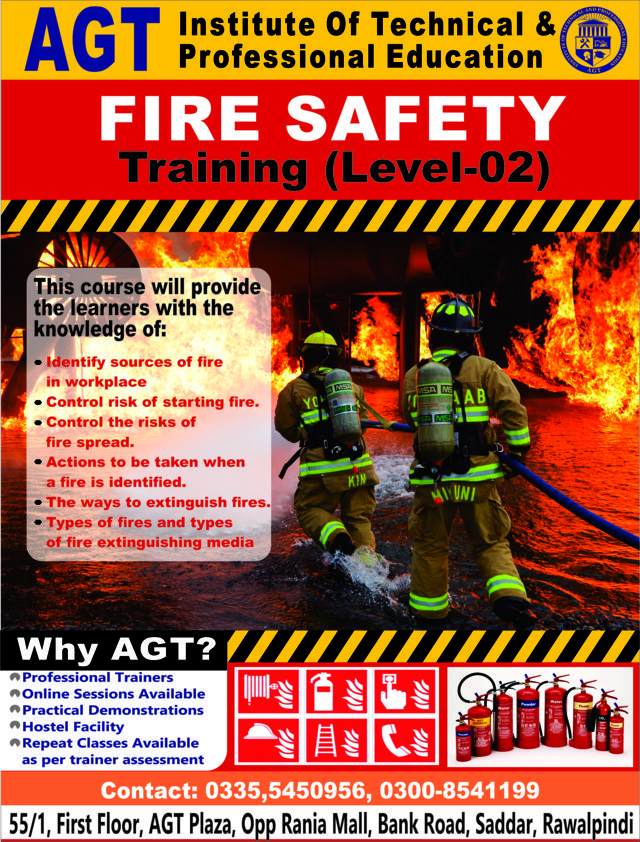 AGT Tech has well defined course modules and training sessions for students as per international standards. Students will be awarded six months AGT Tech training certificate after completion of two months (2 months) training course. If you want to have Cisco Certificate then you will have to appear for their exam as per their fee and exam schedules. The course timings, starting dates, intakes and fees structure details are as under:-
Starting Dates
Class Timings
Status
Fee
05 Jun 2023
04:00 to 05:00
Closed
Rs. 5000
03 Jul 2023
04:00 to 05:00
Open

Comments
Leave a Comment: