Web Designing Course

The revolution of information technology has created a huge potential for IT professionals to explore, learn and improve their livelihood by either working in an office environment or virtually. Today, web designers are known as digital artists as they learn how to conceive and build a beautiful website with the help of color theory, branding, and typography. This Web Designing course will provide you an opportunity to advance your career in web designing by learning industry-ready skills and hands on practice. You need to have a basic knowledge and familiarity with basic operating system before getting admission into Web Designing course. This course provides very exciting career opportunities as at AGT Tech you have the opportunity to explore yourself and develop knowledge base, skills set and practical expertise on Web Designing, which helps you to grow and earn respect and increments.
What You Will Learn
AT AGT Tech, courses are designed with an aim to provide excellent and quality education which helps students to learn basic knowledge and develop skills set in their respective fields. You will be given exposure to the common code language known as HTML, which is used for building of modern websites. This course will provide basic website builders information regarding the foundation of HTML basics and the difference between using HTML to design your website and using popular forms of webpage building software's. The course will also demonstrate the difference between different graphics and images, and when to use each. The students will learn how to layout and format your webpage, as well as some common mistakes to avoid while designing a website.
Industrial Placement
Part-time study available
Alternative start dates available
Work placement opportunity
International Students can apply
---
This course is comprised of workplace based training along with assessment which ensures knowledge and skills are properly assessed. The competence assessment of students after completion of course includes written examination, observation, demonstration and oral question & answers. Learning practical skills relevant to latest practices gives you a clear advantage in the job market. You will be given exposure to following outline for learning:-
Course Outline
Duration
Supplement
HTML
(HTML) Hypertext Markup Language, commonly referred to as HTML, is the standard markup language used to create web pages. Along with CSS, and JavaScript, HTML is a cornerstone technology, used by most websites to create visually engaging webpages, user interfaces for web applications, and user interfaces for many mobile applications.
2 Months
Course Project
CSS
CSS is used to define styles for your web pages, including the design, layout and variations in display for different devices and screen sizes.
Jquery Sliders/Animation

The Jquery animate () method is used to create custom animations. Syntax: Animate, speed, callback, the required parameter defines the CSS properties to be animated. The optional speed parameter specifies the duration of the effect.
Fireworks

Adobe Fireworks (formerly Macromedia Fireworks) is a discontinued bitmap and vector graphics editor, which Adobe acquired in 2005. It was originally developed using parts of Macromedia. Fireworks are made for web designers for rapidly creating website prototypes and application interfaces.
Dreamweaver

Adobe Dreamweaver is a proprietary web development tool developed by Adobe Systems. Dreamweaver was created by Macromedia in 1997, and was maintained by them until Macromedia was acquired by Adobe Systems in 2005. Adobe Dreamweaver is available for OS X and for Windows.
Webhosting

A web hosting service is a type of Internet hosting service that allows individuals and organizations to make their website accessible via the www (World Wide Web). The host may also provide an interface or control panel for managing the Web server and installing scripts, as well as other modules and service applications like e-mail.
ویب ڈیزائینگ کورس
ویب ڈیزاننگ کورس کرنے کے بعد سٹوڈنٹس گارنٹی کے ساتھ ایک مکمل ویب سائٹ بنانے کے قابل ہو جا تا ہے ۔
اس کورس میں سٹوڈنٹس کو
HTML , CSS , Java Script , Jaquery, DreamWeaver اور Adobe Fireworks کی مکمل ٹریننگ دی جاتی ہے ۔
HTML/HTML5:
کورس کے ابتدائی دنوں میں سٹوڈنٹس کو بیسک ویب ڈیزائن کا بنیادی ڈھانچہ HTMLکے ذریعہ تیار کروایا جاتا ہے ، سٹوڈنٹس کو یہ بتایا جاتا ہے کہ HTML کیا ہے یہ کیوں ضروری ہے اور اس کے ذریعے آپ کیسے ویب کا بنیادی ڈھانچہ بنا سکتے ہیں ۔
HTML میں آپ کو کیا کیا سکھایا جائے گا ؟
Introduction to HTML
Very Basic HTML Tags (Many Lectures)
Inserting/Managing Links
Adding/Managing Images
Creating Web Forms
Creating Tables
Creating Marquees
Creating Lists
Using iFrames
Special HTML Tags
Introduction to HTML5
Creating a Website Layout
Creating another Website Layout
Creating one More Website Layout
ACSS/ CSS3:Cascading Style Sheetایسی کمپیوٹر لینگویج ہے جسکے ذریعے آپ ویب سائٹ کے Lay out , Fonts , Colorsاور ویب سائٹ کے ملٹی پیجز بنانے کے کام آتا ہے ۔ css کے ذریعے آپ ساد ہ ڈھانچے کا میک اپ کرتے ہیں
Introduction to CSS
The Syntax
The Methods of Using CSS
CSS Text Properties
CSS Font Properties
Styling Backgrounds in CSS
Styling Images in CSS
Styling Links in CSS
Styling Lists in CSS
Styling Tables in CSS
Creating Borders in CSS
Border-radius or rounded borders in CSS
CSS Text Shadow
CSS Box Shadow
Box Model in CSS
Margins & Padding in CSS
CSS Postioning
Floating & Aligning in CSS
CSS Display Property
CSS Visibility Property
CSS Outlines
CSS Columns
Creating Classes in CSS
Creating IDs in CSS
Creating Pseudo Classes or compound classes & IDs in CSS
CSS Transitions
CSS Animations
Creating Images Gallery in CSS
Creating Horizontal Menu in CSS
Creating DropDown Menu in CSS
Creating a mobile friendly website in CSS
Customizing existing website/blog146s CSS styles
Javascript
ویب سائٹ کے اندر مختلف طرح کی Functionaltyڈالنے کے لیے جیسا کہ Dropdown menus, Picture Slider اور Formsکی Validation وغیرہ کے کام لیے جاتے ہیں ۔ آج کل Javascript میں لکھی گئی بہت ساری لائبریریز کے ذریعے ویب سائٹ کے اندر بہت زیادہ جدت لا سکتے ہیں ۔جیسا کہ Full Animation Website بنائی جاسکتی ہیں ۔Ajaxکے لوڈ میتھڈ کے ذریعے ڈیٹا بیس سے مواد کو تلاش کرنا۔
Fire Works : کے ذریعے سٹوڈنٹس کو ویب سائٹ کے Templates ڈیزائن کرنا سکھائے جاتے ہیں ۔ یہ بالکل Adobe Photo Shop کی طرح کا سافٹ ویر ہے لیکن اس کی نسبت قدرے آسان ہے ۔
Dreamweaver:
یہ ایک ایسا سافٹ وئیر ہے جس میں HTML, Css, java script اور باقی تمام لینگوئجز کا استعمال کیا جاتا ہے اور ویب سائٹ بنائی جاتی ہے۔
ویب ہوسٹنگ : اس کورس میں سٹوڈنٹس کو ویب ہوسٹنگ کے متعلق بتایا جاتا ہے ۔ انھیں یہ بتایا جاتا ہے کہ Domain اور ہوسٹنگ کیسے خریدی جاتی ہے اور ویب سائٹ کیسے اپلوڈ کی جاتی ہے ۔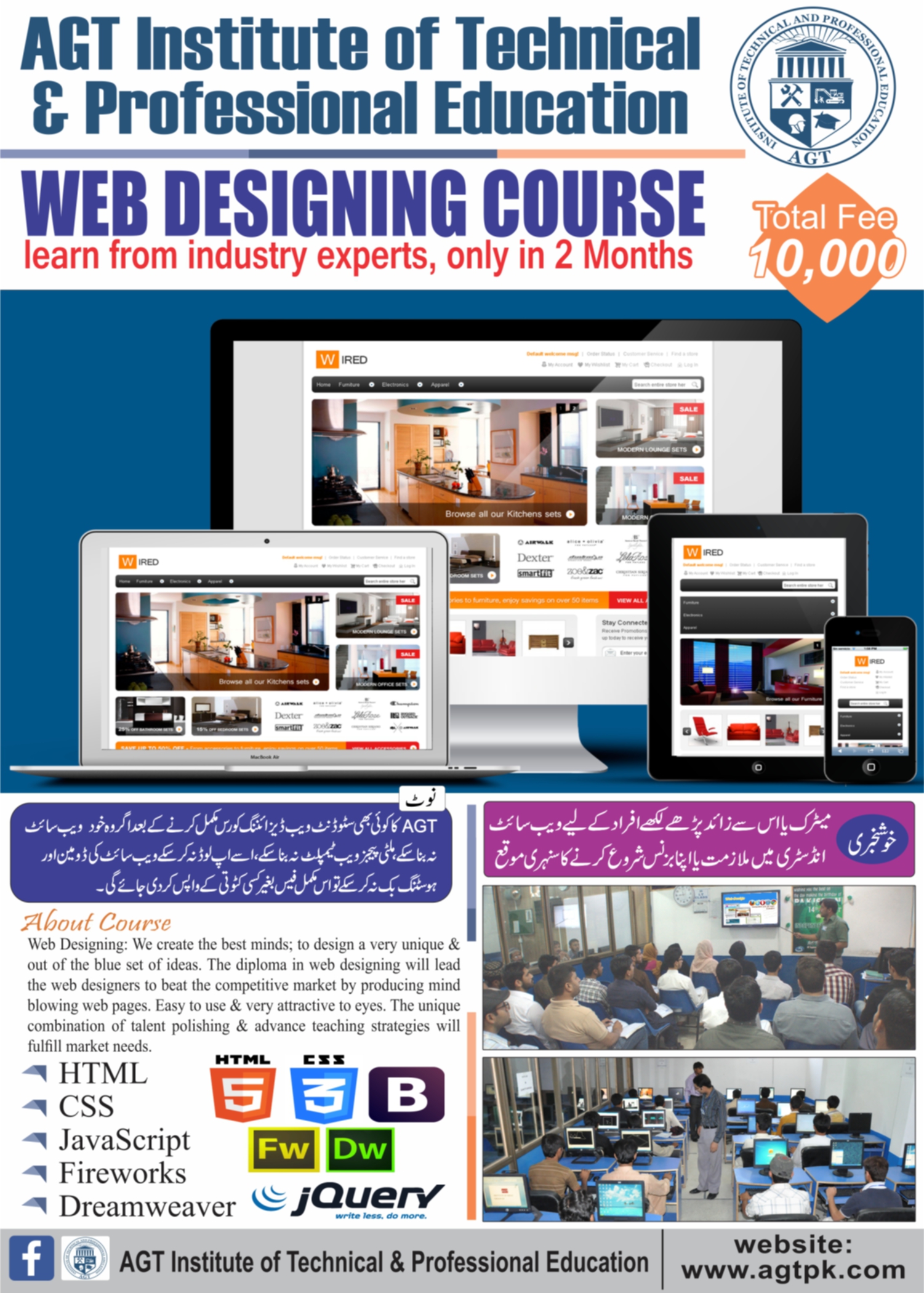 Course video upload soon!
AGT Tech has well defined course modules and training sessions for students as per international standards. Students will be awarded six months AGT Tech training certificate after completion of two months (2 months) training course. If you want to have Cisco Certificate then you will have to appear for their exam as per their fee and exam schedules. The course timings, starting dates, intakes and fees structure details are as under:-
Starting Dates
Course Timings
Status
Fee
April,2021
09:00 to 11:00
Open
Rs. 11,000
April,2021
11:00 to 01:00
Open
April,2021
02:00 to 04:00
Open
April,2021
03:00 to 05:00
Open
Comments
Leave a Comment: