Security Officer Course

Security has become an increasing concern for all commercial and domestic property owners. Businesses normally employ Security Officers to handle matters of security in their set-up. These security officers may be armed or unarmed. Anyone pursuing a career as a security officer, needs to learn the latest techniques in protective measures as well as about modern weaponry. The usage of modern weaponry requires expertise and complete knowledge of the weapons. Also, in order to provide defense services against these weapons, a security officer needs to know about them. This course has been designed to provide education and training regarding protective techniques and preventive measures that a security officer needs to take in order to pursue their responsibilities with proficiency.
Why Study This Course?
DID YOU KNOW:SECURITY OFFICERS SPEND LONG TIME PERIODS ON THEIR FEET.
01
Security officers can come in high levels of public contact and may experience abuse, both physical and verbal
02
Security officers require special kind of training to effectively deal with difficult situations
03
Security officers require special training to be able to minimize danger while providing protection
"Enhance your Skills & Knowledge through the"
You can increase your 'employability' as a Security Officer and get a good job or start your own services business by attending the Security Officer Course.
Industrial Placement
Part-time study available
Alternative start dates available
Work placement opportunity
International Students can apply
---
The Security Officer Course has been designed to provide you the latest knowledge, skills and techniques for providing effective protection and security services, to all kinds of domestic and commercial properties and clients. In the one month, you will learn about the latest techniques and weaponry and also gain practical working experience through practical exercises.
Learning Areas
Course Duration
Course Supplement
Introduction to Security Officer Duties
01 Month
Practical Exercises Quick Help Guide Tips & Techniques
Training on Modern Weaponry and Responsible Usage
Public Dealing and Mitigating Threats
Ensuring Damage Control
سیکیورٹی گارڈ /سیکیورٹی آفیسر
سیکیورٹی آفیسر /گارڈ ٹریننگ ،فائر فائیٹنگ ،فرسٹ ایڈ ،بات چیت کا فن ،کرائم سین کا تحفظ ،سیکورٹی کے آلات
گلف میں سیکیورٹی آفیسر کی بڑھتی ہوئی طلب کی وجہ سے اور یہ نوکری حاصل کرنے کے متلاشی لوگوں کو بڑھتی ہوئی تعداد کو مد نظر رکھتے ہوئے AGTنے ایک مفصل کورس ڈیزائن کیا ہے ۔AGTمیں سیکیورٹی آفیسر کا کورس ایک ماہ میں مکمل گارنٹی کے ساتھ مکمل کروایا جاتا ہے ۔اس کورس میں (DPS) (Department of Protective Services)کو مکمل کرایا جاتا ہے ۔DPSدبئی میں پولیس کی ٹریننگ کورس میں شامل ہے ۔اس کورس میں سیکیورٹی آفیسر کی ذمہ داریاں ،پیٹرولنگ ،ناکہ لگانا ،تلاشی لینے کا طریقہ کار سیکھایا جاتا ہے ۔یہ کورس بنیادی طور پر گلف میں سیکیورٹی کی نوکری حاصل کرنے کے لیے فائدہ مند ہے ۔
اس کورس میں سیکیورٹی سے متعلق ٹیکنیکل اور جرنل تمام امور کا احاطہ کیا جاتا ہے تاکہ طالب علم نہ صرف انٹرویو پاس کرکے نوکری حاصل کرے بلکہ نوکری حاصل کرنے کے بعد بیرون ملک بھی اپنے علم کو بروئے کار لاکر اپنے لیے باعزت روزگار فراہم کرے بلکہ ملک و قوم کے وقار میں اضافے کا سبب بنے ۔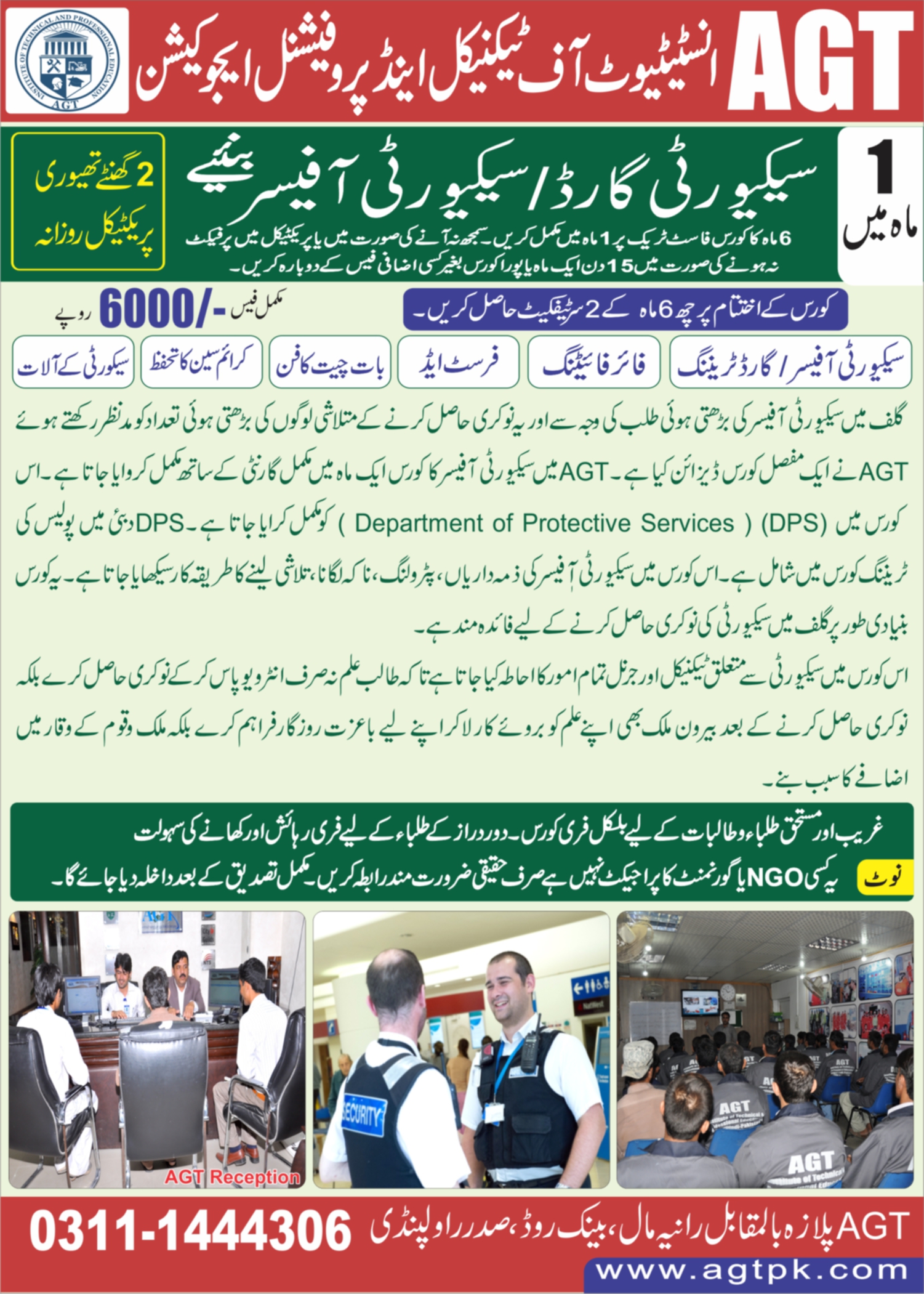 Course video upload soon!
AGT Tech has well defined course modules and training sessions for students as per international standards. Students will be awarded six months AGT Tech training certificate after completion of two months (2 months) training course. If you want to have Cisco Certificate then you will have to appear for their exam as per their fee and exam schedules. The course timings, starting dates, intakes and fees structure details are as under:-
| | | | |
| --- | --- | --- | --- |
| Starting Dates | Course Timings | Status | Fee |
Comments
Leave a Comment: