Heating & Ventilating Air Conditioning (HVAC)

The HVAC Course has been designed to impart skills concerning repair and maintenance of HVAC systems. It incorporates the knowledge and skills required to handle present day's technological advances in HVAC systems. This diploma course provides the basic information and skills related to servicing, repairing and executing other maintenance tasks on the latest and modern domestic and commercial HVAC systems.
Why Study This Course?
DID YOU KNOW:PROPER MAINTENANCE OF HVAC SYSTEMS IMPROVES PERFORMANCE, CONSERVES ENERGY & REDUCES EXPENDITURES
01
HVAC is the combination of three systems – heating, ventilation and air conditioning
02
Over the years, HVAC systems have improved in efficiency due to technological advancements
03
HVAC systems come in various types including split, mini split, boilers and furnaces
"Learning about modern HVAC equipment will help"
You can increase your 'employability' as a HVAC servicing expert and get a good job or start your own business by learning the basic about these equipments through our HVAC Course.
Industrial Placement
Part-time study available
Alternative start dates available
Work placement opportunity
International Students can apply
---
The HVAC Course has been designed to provide you knowledge and hands-on experience of repairing, servicing and maintaining all kinds of domestic and commercial HVAC systems designed by leading manufacturers. You will get to learn all about the latest in heating, ventilation and air conditioning industry and the fundamentals of modern equipment design and maintenance.
Learning Areas
Course Duration
Course Supplement
Feaures of modern day HVAC systems
02 Months
Practical Exercises Tips & Techniques Lab Work
Types of HVAC Systems
Installation, Repairing, Maintenance and Servicing requirements of HVAC systems
Pipe work, Coils and Refrigerants, Gas Charging and Diagnostics
Safe Handling of HVAC Systems
ہیٹنگ وینٹیلیشن اینڈ ایئر کنڈیشننگ کورس HVAC
H & C(ہیٹنگ اینڈ کولنگ یونٹ ) AHU(ایئر ہینڈ لنگ یونٹ ) FCU(فین کوائل یونٹ ) کولنگ ٹاور چلر کولڈ سٹوریج یونٹ
چلڈ واٹر پمپ چلڈ واٹر پائپنگ انسولیشن ڈکٹنگ نالج ڈکٹنگ انسولیشن بوائلر
اوپر دئیے گئے تمام یونٹس کی انسٹالیشن ،ریپئرنگ ،مینٹینس ،گیس چارجنگ ،سروس اور ان میں استعمال ہونے والے تمام الیکٹرونکس ،الیکٹریکل اور مکینیکل پارٹس کی مکمل تھیوری جن میں ان کا کام کرنے کا طریقہ کار ان یونٹس کے اندر ان کی جگہ ان کی پہچان ان میں آنے والے ہر قسم کے نقائض (فالٹس )پڑھائے جاتے ہین ارو ان فالٹ کو دور کرنا پریکٹیکل سیکھایا جاتا ہے ۔
HVACکورس میں سٹوڈنٹس کو تمام مکینیکل پارٹس جن مین کمپریسر ،چلر واٹر پمپس ،کنڈنسر واٹر پمپس وغیرہ شامل ہوتے ہیں ۔ان پارٹس کی پہچان ،مرمت ،ضروری دیکھ بھال اور ان کے کام کرنے کا طریقہ سیکھایا جاتا ہے ۔
HVACکورس میں تمام الیکٹرونکس پارٹس جن میں مختلف قسم کے کنٹرولز شامل ہیں ان کی شناخت ،یہ یونٹ میں کس جگہ لگے ہوتے ہیں کیا کام کرتے ہیں ،ان کے خراب ہونے سے کیا فالٹ آتے ہیں ان کے بارے میں پڑھایا اور سیکھایا جاتا ہے ۔
AGTکے تمام سٹوڈنٹس کو مختلف بڑی عمارات پر انسٹال HVACکے یونٹ کا وزٹ کروایا جاتا ہے جو کہ 175ٹن سے لے کر 1200ٹن کی کیپسٹی کے ہوتے ہیں اور اس کے ساتھ ان بڑے سسٹم پر کام کرنے کا طریقہ سیکھایا جاتا ہے ۔
کولنگ ٹاور
اس کورس میں طلباء کو کولنگ ٹاور کی سروس کرنا ،اس کی فنز (Fins) تبدیل کرنا اور چلر کی (D Scaling)کرنا سیکھایا جاتا ہے ۔
بوائلر
اس کورس میں طلباء کو بوائلر کو آن کرنے کا طریقہ اور اس کے کام کرنے کا طریقہ سیکھایا جاتا ہے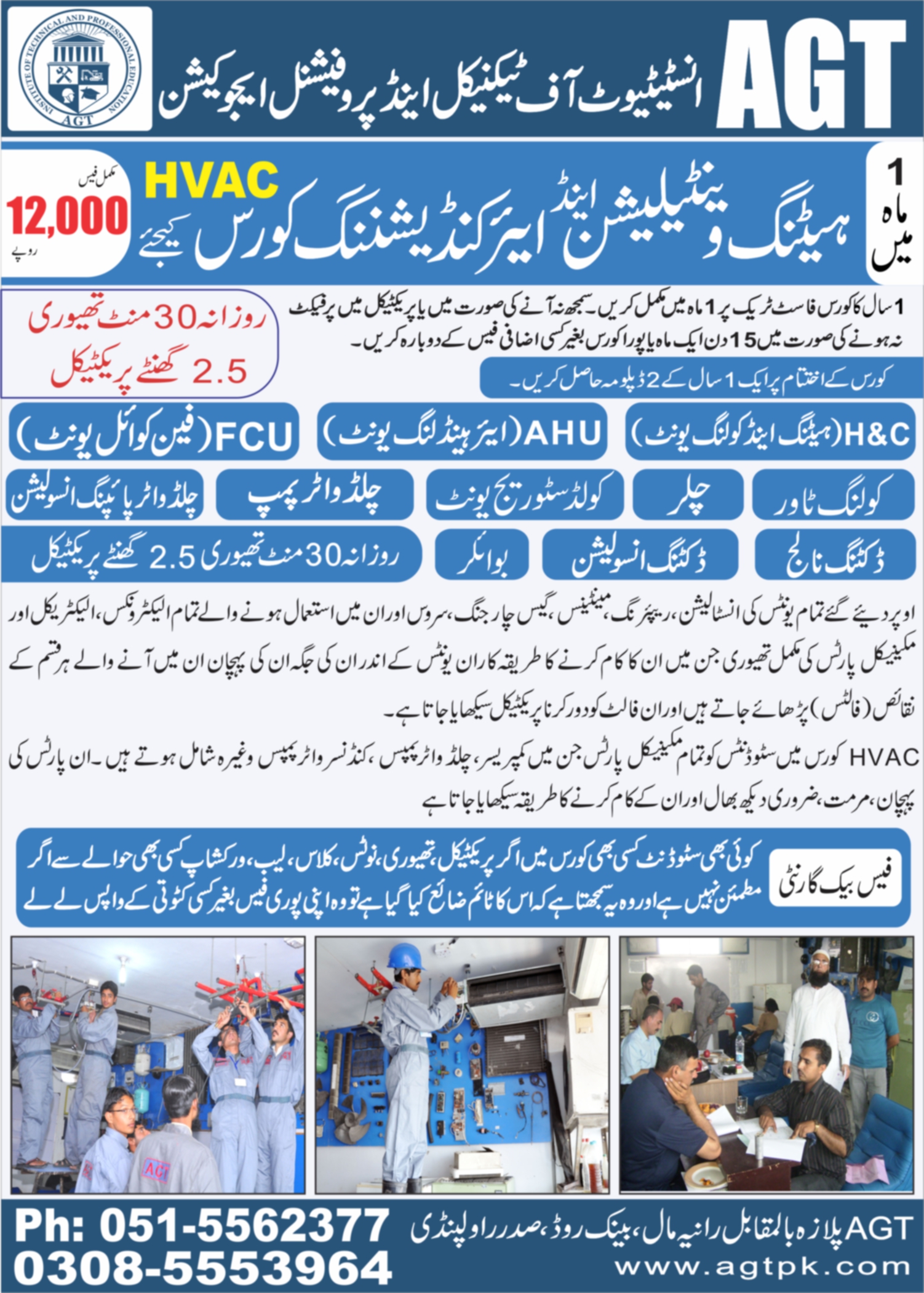 Course video upload soon!
AGT Tech has well defined course modules and training sessions for students as per international standards. Students will be awarded six months AGT Tech training certificate after completion of two months (2 months) training course. If you want to have Cisco Certificate then you will have to appear for their exam as per their fee and exam schedules. The course timings, starting dates, intakes and fees structure details are as under:-
Starting Dates
Course Timings
Status
Fee
April,2021
02:00 to 04:00
Open
Rs. 12,000
April,2021
04:00 to 06:00
Open
Comments
Leave a Comment: